MRHS Maverick Band Ensembles
These ensembles are the performing ensembles outside of regular academic classes. Marching Band is the only required ensemble that all band members are required to participate in. All others are extra-curricular and are made up of students who wish to expand their participation with their regular instrument, or other instruments.
Maverick Marching Band
The Morton Ranch High School "Maverick Marching Band" is comprised of all members in the Wind Ensemble, Honors Band, Symphonic Band, and Concert Band.
The marching band rehearses after school during the fall semester only and performs at pep rallies, all varsity football games, 4-5 marching contests, and other special events as needed.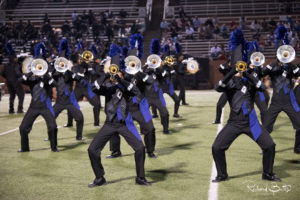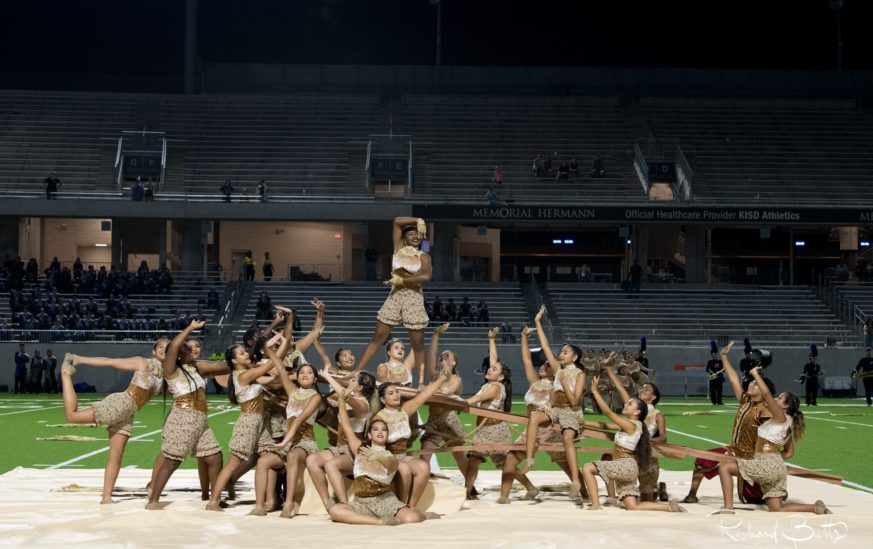 Color Guard
The Colorguard is a part of the marching band program that offers an opportunity for students to learn and perform dance movement with equipment such as flags, "sabers," and "rifles." Colorguard is open to any student enrolled at Morton Ranch High School and requires an audition to become a member. Auditions are held at the end of April for the next school year.
In the spring semester, students will perform separately from the marching band in winterguard. Winterguard is performed in a gym and exposes the dance/flag performers as the main performance focus. Winterguard season begins in November and, typically, runs through the end of April.
Morton Ranch Indoor Percussion (MRIP)
The Morton Ranch Indoor Percussion unit has been a competitive member of Winter Guard International (WGI) and the Texas Color Guard Circuit (TCGC) for over a decade. Made up of members from all sections of the band, MRIP is essentially an indoor drumline that competes in a gym, similar to winter guard. The productions are often more elaborate than marching band shows with custom costumes, stages, and music. MRIP has a history of competitive success and considered one of the more successful units in the Houston area. The season often begins in November with auditions and concludes in early April and only competes on even numbered years. The group is directed by Mr. Pride.
2010 – PSCA Gold Medalists (TCGC)
2012 – PSA Silver Medalists (TCGC)
2013 – PSA Gold Medalists (TCGC)
2014 – Bumped to PSO (TCGC)
2015 – WGI Houston Regional Finalist
2018 – First time attending the Dallas WGI Regional, WGI Regional Finalist
2019 – WGI Dallas and Houston Finalist
2019 – First time earning a spot in a WGI Regional finals whenever there was a cut after prelims.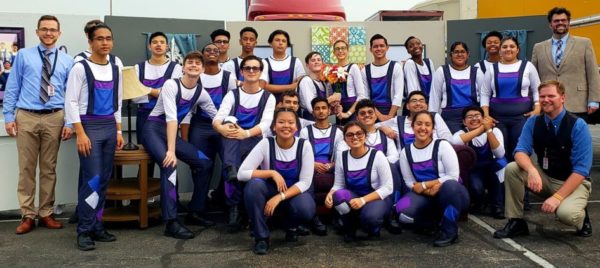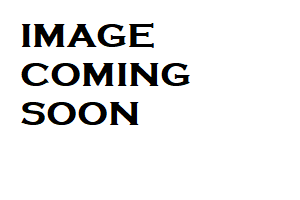 Morton Ranch Percussion Ensemble (MRPE)
The Morton Ranch Percussion Ensemble (MPRE) consists of members of the percussion section and is a (mostly) noncompetitive group. Performing a variety of literature from classical to contemporary, the ensemble will perform at various venues around Katy and west Houston as well as the UIL Solo and Ensemble Contest that usually takes place at the end of February. They typically perform between four and ten works per concert cycle, and the ensembles vary in size from trios to utilizing the entire percussion section. In addition to UIL, MRPE submits tapes to compete for ensemble competitions through the Texas Music Educators Association, Percussive Arts Society, Texas Bandmaster's Association, and Midwest. The ensemble is directed by Mr. Pride and will have a concert in May of every year in addition to numerous run out performances.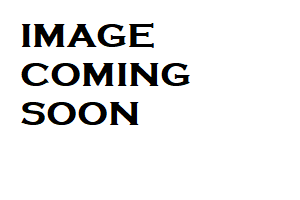 Jazz Band
The Jazz Ensemble is a group of selected student musicians interested in the study of music in the jazz idiom. The Jazz Ensemble will perform at concerts, community events, and festivals throughout the year.
Prerequisite: Membership in the Morton Ranch High School Band, Choir, or Orchestra program; Audition/approval by Director. Exceptions are given for guitar, bass, and piano players.
Brass Choir
The Morton Ranch High School Brass Choir is a volunteer/audition ensemble that meets after school. All members play brass instruments and perform a wide variety of music. The Brass Choir is a new organization at Morton Ranch High School and is showing great promise. Membership for the Brass Choir is made up of students from each band class and all brass musicians are welcome. Brass Choir performs in formal concerts as well as various locations (senior communities, nursing homes, etc.) within the Katy area.