Christopher Brown became the Director of Bands at Morton Ranch High School in July 2019. Prior to this position, he held the same position at McMillen High School in Murphy, Texas and West Mesquite High School in Mesquite, Texas. Mr. Brown holds a Bachelor's Degree in Music Education (2002) from Northwestern State University of Louisiana in Natchitoches, LA and a Master's Degree in Conducting (2010) from the Moores School of Music at the University of Houston.
Mr. Brown's responsibilities at Morton Ranch High School include conducting the Wind Ensemble, co-teaching the Concert Band and Symphonic Band, and team-teaching the Honors Band and the Maverick Marching Band. Bands under Mr. Brown's direction have earned superior ratings in University Interscholastic League Marching, Concert, and Sight Reading contests, and have earned "Best in Class" at various music festivals around the state. The McMillen High School Wind Ensemble was selected the Overall Outstanding Band at the Alamo Showcase of Music in San Antonio in 2015, 2017, and 2019 and at the Lonestar Showcase of Music in Dallas in 2016.
While serving as a Graduate Assistant with the University of Houston Bands, responsibilities with the UH band department included directing the University Band for non-music majors, the Symphonic Band, and the "Cougar Brass" basketball band. Additionally, he assisted with instruction of the "Spirit of Houston" Marching Band, the Symphonic Winds, and the acclaimed UH Wind Ensemble. During his time at UH, Mr. Brown had the opportunity to come under the mentorship of David Bertman, John Benzer, Marion West, and Eddie Green.
Prior teaching experience includes positions at McKinney High School in McKinney, TX, the Plano East Senior High School cluster of schools in Plano, TX, and A&M Consolidated High School in College Station, TX.
Coming to Texas from Louisiana, Chris received his Bachelor's Degree in Music Education from Northwestern State University of Louisiana in Natchitoches, LA. During his time at Northwestern, Chris had the honor to serve as Drum Major of the "Spirit of Northwestern" Demon Marching Band under the direction of Dr. Jeff Mathews for three years, the last two of those as the Head Drum Major, and served on the instructional staff of the NSU Drum Major camp from 2002-2011. As a performer at NSU, Chris played in the saxophone sections of the NSU Wind Symphony under the direction of Mr. William (Bill) Brent, the NSU Wind Ensemble under the direction of Mr. Ken Green, the NSU Jazz Ensemble, the Natchitoches/Northwestern Symphony Orchestra, and various chamber ensembles.
As a clinician, adjudicator, and performer, Chris has had the opportunity to work with directors and students around the country.
Mr. Brown is a member of Kappa Kappa Psi Honorary Band Fraternity, Phi Mu Alpha Sinfonia Fraternity, and the Texas Music Educators Association.
Chris lives in Katy, TX with his wife, Candice, daughter, Lochlyn, and their English bulldog named Maestro.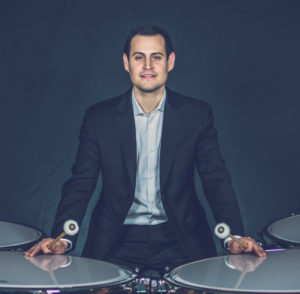 Jacob Gutierrez
Assistant Band Director/ Percussion Director
Percussionist and teaching artist Jacob Gutierrez is crafting a career model around being a true 21st century musician. With experience ranging from his touring percussion trio to performances at the Kennedy Center, Gutierrez is charting a career path of entrepreneurialism in tandem with award-winning musicianship.
Gutierrez is most known for his work in cultivating the percussion repertoire, creating evocative concert experiences that both entertain and educate. To this end, he and his two brothers co-founded 3G Percussion, a nationally recognized percussion trio. Having toured in Texas and across Canada with Ensemble Atlantica, 3G has been featured on Houston Public Media Radio Station, the San Antonio Current, and "Live & Local" on KRTU 91.7FM. Furthermore, 3G proudly collaborated with multiple organizations to create large-scale interdisciplinary works, including the Transitory Sound and Movement Collective. With TSMC, Gutierrez spearheaded an hour-long performance of dance, film, and music with creatives from Dallas and New York City. 3G was also the anointed Guest Ensemble at the 2018 Space City New Music Festival, where they gave the world premiere of Marcus Maroney's work "Escape," in addition to sixteen other works by composers from around the United States, Mexico, and Germany.
A proud proponent of new music, Gutierrez is a member of several commissioning consortiums to generate new music from composers such as Alejandro Vinao, Emmanuel Sejourne, Juri Seo, and Rajna Swaminathan. He has performed some of the era's most celebrated–and challenging–work for percussion, including Kaija Saariaho's "Six Japanese Gardens", Joseph Schwantner's "Velocities", Alejandro Vinao's "Book of Grooves", and Peter Klatzow's "Dances of Earth and Fire".
Gutierrez has performed with recognized artists and ensembles including the Yale Percussion Group, Sō Percussion, Caroline Shaw, Magda Giannikou, Yale Jazz Combo, MUSIQA, The Cadets Drum & Bugle Corps, and has appeared at Canada's Pacific Region International Summer Music Academy, Western University, Lone Star College Contemporary Music Festival, Rothko Chapel, the Space City New Music Festival, the So Percussion Summer Institute, and the Cloyd Duff Timpani Masterclass. Furthermore, as a member of The Cadets, he was named as part of the country's top drum corps percussion section in 2013, receiving the Fred Sanford High Percussion Award. As an orchestral musician, Gutierrez has performed under the baton of renowned conductors such as Marin Alsop, Joseph Young, Miguel Harth-Bedoya, Peter Oundjian, Raymond Harvey, Arthur Arnold, and Laurent Pillot.
Gutierrez holds degrees from Yale University, the Peabody Institute of the Johns Hopkins University, the University of Houston, and is a licensed K-12 music educator in Texas.
Emma Wade is the Assistant Band Director and conducts the Concert, Symphonic, and Honors Bands as well as the Jazz Band and Brass Choir.
Emma's love for music began young- being whisked away to the opera. Years later, she began playing the trumpet and attended Mayde Creek High School where her love of Jazz was born. The decision to become a band director came very easily from a desire to bring a love of music to anyone who would listen.
Emma holds a Bachelor's degree in Music Education from Sam Houston State University. There she participated in the Marching Band, Baroque Trumpet Ensemble, Jazz Band, Brass Choir, and Symphonic Bands. While at Sam Houston she also served in several officer positions within the School of Music.
Additionally, Emma also has experience with the Academy Drum and Bugle Corps where she performed in 2013. Emma is a member of Sigma Alpha Iota International Women's Fraternity as well as Texas Music Educators Association, Texas Bandmaster's Association, and Texas Jazz Educators association.
Eddie Jimenez
Color Guard Director
Eddie Jimenez has a long history with the MRHS Maverick Band. As a member from 2006 – 2010 he was not only on the color guard but also a tuba player and an active member on the SLT serving as a Lt. his junior year and then as Captain his senior year. After graduation Mr. Jimenez continued his color guard education in DCI World Class with The Blue Knights Drum and Bugle Corps from Denver, Co for 3 summers, again working his way up the ranks and becoming a section leader his third summer. As well as performing during his summers, during winter season he performed with the world class organization Cypress Independent for three years finishing his marching career with CI in their highest ranking year at WGI Finals.
Even while a performer Mr. Jimenez was focused on learning as much as possible in order to transfer as much information as he could to his students. Mr. Jimenez has worked at various schools in KatyISD in various roles such as choreographer, designer, clinician, and as a technician. Even while serving as a director for other high schools, he never strayed too far from helping out as often as he could as a choreographer and technician. He spent the first 5 years after high school as a director on his own; in 2015 he decided to dedicate his full time to Morton Ranch as the assistant director of color guard under his mentor and former director Juan Artavia. After serving as the assistant director for 3 years, Mr. Jimenez stepped into his role as Director of the color guard at the start of the 2018 school year. This will be his third year in this position at Morton Ranch.
Outside of Ranch, he has worked with many Independent Winter Guards in Texas, Louisiana, and Michigan as a choreographer, technician, or movement specialist with Redemption Winter Guard, HVA Winter Guard, Linden Wings Winter Guard, Industry, Axis, Undaunted, and Lake Area Independent. He served as a choreographer and technician with Guardians Drum and Bugle Corps for the 2017 and 2018 summer as well as a Co-Caption Head for the 2019 summer. His high school experience ranges from a variety of programs over the last 10 years but with Morton Ranch having three winter programs he focuses heavily on those teams as well as Lumberton High School as their main show designer for the last 5 years.
Mr. Jimenez has thoroughly enjoyed his time working with Morton Ranch and plans a long career at his alma mater. He wholeheartedly believes that color guard has a way of reaching students way past teaching them to be strong spinners and performers. He hopes to impact his students in a way that will teach them to push themselves to their fullest potential and to breathe passion into whatever task is in front of them.